Recently, Spencer signed onto House Bill 503, a bill establishing portfolio standards for renewable energy production by Georgia's energy companies and creating a Renewable Energy Credits Trading program.  The program will allow companies who efficiently produce energy with renewable resources to sell that energy and help other companies meet their renewable energy portfolio goals.  HB 503 also allows the Public Service Commission to design incentives to help traditional electricity service providers transition to greater renewable energy production.  This bill is the the first step in the right direction for future energy production in the state of Georgia that allows Georgia to expand use of renewables, seize future economic opportunity and invest in the future health of our environment.
House Bill 503, sponsored by Karla Drenner, Carol Fullerton, Debbie Buckner, Scott Holcomb, Spencer Frye and Earnest Smith, takes the first step towards building a renewable energy future by developing portfolio goals for Georgia's energy producers.  By 2014, Georgia's Public Service Commission would set goals that increase the share of renewable energy production from 5% to 12% of total energy production in Georgia.  As companies improve upon renewable energy production technology, this proportion could rise over time.  As a part of this program, companies who can produce large amounts of renewable energy can participate in the Renewable Energy Credit Trading program by selling their renewable energy in the form of credits to help other energy companies meet their portfolio goals.  This would encourage companies who efficiently produce energy using renewable resources to produce it in large amounts and increase the share of renewables in our total energy production.
Increasing the share of energy produced using renewable resources is an important two-fold investment for Georgia's future.  The first investment Georgia makes is in future economic growth.  By capitalizing on federal and private investments, Georgia stands to gain 59,000 jobs and $4.6 billion in investment revenue.  Part of this job growth and investment would occur in the area of high-tech manufacturing of renewable energy products like solar panels.  Currently American companies are bringing jobs back to the United States in part because of cheap energy produced in the United States.  Expanding domestic solar panel productions would create jobs and encourage companies to continue this trend.  Similarly, creating an environment for expansion of other renewable energy production like wind power, hydroelectric power and biomass have the potential to bring similar economic benefits.  Georgia stands to gain from this pattern if we increase our usage and knowledge of renewable energy production.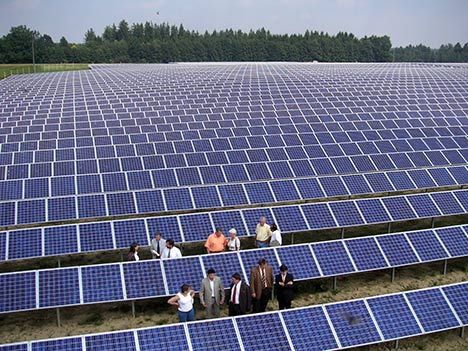 The second investment Georgia makes by expanding renewable energy production is in the future health of our environment and associated economic benefits.  Air pollution causes approximately 50,000 premature deaths in the United States and contributes to increased health care costs of about $150 billion.  Rising global temperatures limit crop yields and contribute to rising food prices.  By taking steps towards greater usage of renewables, Georgia can lower future healthcare costs of pollution-related illnesses and protect food security for the next generation of Georgians.
While the goals mentioned above lead to long-term benefits, the time for Georgia to make these investments is now.  Georgia has been ranked as the fifth best state for potential solar energy production and the third best state for potential biomass energy production.  The market for renewable energy and associated products is largely untapped.  By increasing our usage of renewables and creating an environment hospitable to renewable energy manufacturing, Georgia can lead the United States and the world into the next generation of energy production.  House Bill 503 takes the initial steps in making this possible.
As your representative, Spencer feels a duty to seize these investment opportunities to increase opportunities and improve the lives of his constituents and of all Georgians. Thank you and have a great week!